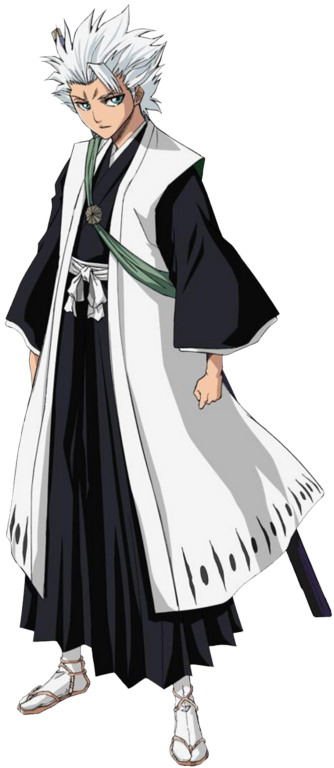 Name:
Kirito Samejima
Nickname:
(Does your character have a nickname? Something like "The Yellow Flash". If not, put N/A)
Age:
12
Gender:
Male
Height:
4'9"
Weight:
90 lbs
Appearance:
The first thing most people notice about Kirito upon meeting him is that he is incredibly short for his age. Next, it would be his spikey, white hair and crystal blue eyes. His hair is mostly just a spikey mess with a single strand falling slightly over his forehead above his left eye. He has an angular face that is often pulled into serious concentration. He has a modestly muscular body that has a few scars from his years of both training himself to the point of exhaustion and facing the challenges of life. When he does smile, it causes his eyes to show a light that only those closest to him ever get to see, a light that can almost glow in the darkness of the world.
His most common outfit consists of a black combat gi with a white sash around the waist. This is worn with white socks and traditional style shinobi sandals. Over this, he wears a white haori with the Kanji for Winter (冬 Fuyu) embroidered on the back. He is always seen with his sword strapped slanted on his back over his right shoulder. He also sometimes wears a white scarf wound around his neck.
In the case that you find him in more casual clothing, he is usually wearing a light blue shirt with black pants and an unbuttoned black jacket. Sometimes he will wrap his arms in white tape if he is doing training so it's not uncommon to find him with that. He also wears a necklace with a tooth that appears to be made out of ice. It is unknown how he got this or where it came from, but it seems to hold some sentimental value to him. Finally he has a tattoo of a dragon swirling in on itself in the center of his chest.
Village:
Shimogakure
Character Rank:
D/Genin
Character Tier:
D-3
Clan:
N/A
Element:
Water
Bijuu Roll:
(Three-Tails, Isobu)
Personality:
Kirito is usually a very calm and collected person. He doesn't let emotion cloud most of his actions. While he is usually calm and peaceable, he will get angry at those who make fun of his height as it is something he is embarrassed about. He enjoys taking time to walk around in the snowfields in the Land of Iron and even takes time to speak with his fellow villagers in Shimogakure. While being a Samurai doesn't interest most people, he finds it to be something he truly enjoys. Though, he only recently graduated, he has big goals set for himself.  To most people, he is a determined and coolheaded individual, as long as no one makes him upset. To his friends and those he trusts, he can be a happy and loyal friend. He will help those who are kind to him and will always put his friends before himself. But, he despises those who kill or attack for no reason and has a passionate dislike of all Kirigakure ninja. To his enemies, he is as cold as ice and can often be seen as cruel or apathetic to those whom he dislikes.
Character History:
Kirito was born twelve years ago in the Land of Earth. On the day he was born, one of the tailed-beasts, the Three-tails, appeared in the area near his village. Iwagakure quickly sent a detatchment of shinobi adept at sealing from the front lines in the war to aid in its capture. They required a child who had just been born to be used as the container for the beast and as such took Kirito since he was the only one young enough. Luckily, they were skilled enough to completely seal the beast away, though it cost them their lives. It was then agreed to by the members of the small village that they wouldn't reveal what really happened to the beast t keep Iwagakure from coming to take away the child to be used as a weapon in the war. During his childhood he was seen as a kindhearted and well-behaved kid who never caused trouble for anyone.
He was born at a terrible time for those in the Land of Earth as they were in the middle of a war with the Land of Water. This war had been going on for many years, no one really was certain on the cause of it, but it caused high tensions within the Land of Earth and many people moved out of the area. Kirito's family was no different. When he was five years old, he and his family set out to the Land of Iron which was known to be a safe haven from Kirigakure. While on the way there they had the misfortune of running across a group of Kiri Hunter-nin who attacked their travelling group killing all except for Kirito and a few others who escaped into the wilderness. For the next year, Kirito and the other two children who managed to escape the ambush wandered in the wilderness in search of their destination. After a year of travelling Kirito and his final surviving companion were found on the brink of death by a squad of Samurai who brought the two into Shimogakure, the Samurai stronghold village.
The next four years went by rather quickly for the two budding Samurai. A few months after they arrived, they were admitted into the Bushido Dojo, where all of the kids who hoped to be Samurai went for their initial training and trials. It was here that Kirito felt that he really found his calling. He excelled at the teachings they had in the dojo and quickly rose to the top of his class. After four years, he was ready to graduate. He and his friend graduated together and were actually put on the same team. They had gained the favor of the shogun due to their prowess in the academy and he granted them and their sensei a high ranked mission in order to prove themselves. It was on this mission that they were attacked by a missing ninja who had wandered into the Land of Iron and was running from one of the five major villages. The ninja managed to knock out their sensei for just long enough to kill Kirito's friend. Upon witnessing the death of his friend, his body gave into the power hidden within it. He managed to kill the ninja and would have fully transformed if it hadn't been for his sensei knocking him out when he wasn't looking. During the next two years he would continue his training, trying his best to learn from his past and attaining his goals not only for his family, but now also for his friend.