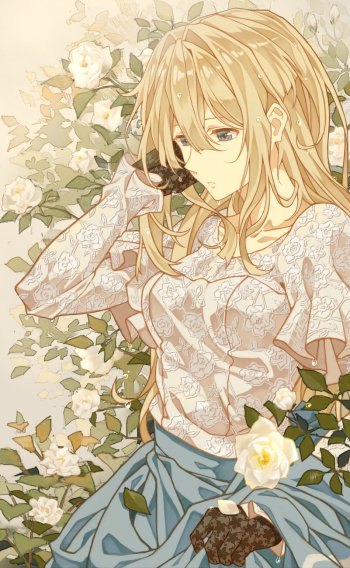 Name:
Viaoretto Hyuuga
Nickname:
Violet
Age:
22
Gender:
Female
Height:
5'5"
Weight:
110lbs
Appearance:
Viaoretto is a gorgeous woman with soft, fair skin and wondrous, long, blonde hair. She stands five-foot-five and weights in at about one-hundred and ten pounds. Her face exudes an extremely comforting and kind feeling that is absolutely inviting. Her blonde hair reaches down to her shoulders and she usually has two braids wrapped around the sides of her head that tie together at the back. When not tied together in this manner, her hair is loose and straight. This is when her beauty truly shines, stunning others with sheer awe.
Her eyes are a deep, warm shade of ocean blue that engulfs anyone who looks at them into a soothing sea comparable in comfort only to one's own home. Her hands, though typically covered in black gloves, are soft to the touch and would have you believe that she is a woman who has never endured any difficulties whatsoever. As a matter of fact, her entire body tells the story of a woman who has been pampered and spoiled her entire life. Both of these, however, are completely contrary to the truth. Judging by her appearance alone, you would never think that this woman was a talented Jounin who was a member of the prestigious Hyuuga family, yet she was. Anyone who doubted her ability on the battlefield would no doubt be taken advantage of with their lowered guard.
Vioretto typically wears a long-sleeve, red top with three buttons alongside the neck area with a black skirt and black thigh-high socks that lead into her pair of black boots. On her right wrist is a bracelet handed to her by her mother and on her chest lays a thin, gold necklace given to her by her father. She has two roses tattoo'd on both her hands and her back, though all three are covered up by her shirt and her pair of black gloves.
Village:
Konohagakure
Character Rank:
Jounin
Character Tier:
A-3
Clan:
Hyuuga (Main Family)
Element:
N/A
Personality:
A serene sea. A gentle forest. A calm breeze. All of these are sufficient comparisons for Viaoretto's personality. On the surface, everything about her is incredibly gentle and inviting. There is, inexplicably, something about her that makes people want to approach her at every turn. Combined with her other worldly beauty, she is a creature that should simply not exist on Earth, as if sent from Heaven by God Himself.
On the battlefield, though incredibly talented, she carries herself with the same gentleness. She will always seek a more peaceful solution if available, though she will not hesitate to punish someone to the full extent of her abilities should they pose a significant danger to her objective.
Viaoretto is incessantly caring, always willing to lend an ear or hands to others, no matter their problem. Should someone approach her asking for her aid, she would, at the very least, listen to their problem(s) in full and offer assistance if possible. This act has gained her plenty of friendships and an innumerable amount of acquaintances. No matter where one goes in Konohagakure, her name is known for her unending kindness.
Always looking for the beautiful things in life, Viaoretto is a woman of many hobbies. Though she likes honing her combat abilities like any other trained shinobi, she also enjoys the much more gentle pastimes in life. When not training, she can be spotted reading under a tree, walking among the forests, drinking tea, writing in her diary, or her personal favorite -- playing the piano, which is only matched by her ability on the battlefield. She often expresses her true feelings within the comfort of her own home, seated at her piano, letting the black and white keys do all the talking necessary. Often times, her neighbors can be seen standing by their windows, listening to her play.
Character History:
A blazing sun marked the birth of a precious baby girl. After years of believing she would never be able to bring a child into the world, the birth of Vaioretto was nothing short of a miracle. Overjoyed by the newest addition to their household, Viaoretta's parents treasured their daughter every second of every day, doing their best to raise her into not only a wonderful woman, but an exceptional human as well.
Though they were members of the renown Hyuuga clan, her parents never once wanted their daughter to become a shinobi. They wanted to shield their treasure from the filth of the outside world, most notably from the despicable influences of the battlefield. They did their best to hide even the smallest possibility of the shinobi life from their always gusto daughter, but would inevitably fail. Her blood pulled her to the battlefield, yearning to be at odds with an opposing force in order to prove one's own existence.
Before her parents allowed her to enroll in the ninja academy, they made Viaoretto promise that she would also attain skills and hobbies that extended far beyond the responsibilities of a combatant. As such, they had her learn to play the piano at around the same time she enrolled, her skill increasing alongside her combat abilities. She would later fall in love with reading and adventure, often times combining the two by reading in new locations.
Viaoretto's affinity in combat was apparent as soon as she enrolled in the academy. She was incredibly quick to grasp concepts and techniques, far exceeding the talent of her contemporaries. Coupled with her beauty and otherworldly kind attitude, Viaoretto quickly became despised by the other girls in her class. They hated how out of reach she seemed and how she was always in the eye of the boys in the class. This led to Viaoretto spending plenty of time alone while others enjoyed the virtue of company.
As she rose within the rank ladder of the domestic shinobi environment, the hate that had been directed towards her quickly changed into admiration. Those that hated her now befriended her and wished to learn from her. The townsfolk were no different in that regard. They cherished her existence and valued her contributions to their daily lives, whether it be the sound of her piano keys that reached their bedside windows or her accomplishments as a shinobi.
Now twenty-two years of age, Viaoretto has become the woman her parents always wanted her to be, all while being a shinobi worth idolizing. She has grown to reach heights others dream of all while showing utmost humility and humbleness. Viaoretto continues to fight her own personal battles every day in order to continue improving as a shinobi and as a human being. She hopes to one day lay claim to a title that transcends accomplishments on the battlefield, striving to be remembered as someone who others could simply not live without. For now, she'll continue in ascending the shinobi ranks, increasing her influence in the lives of the everyday person along the way.