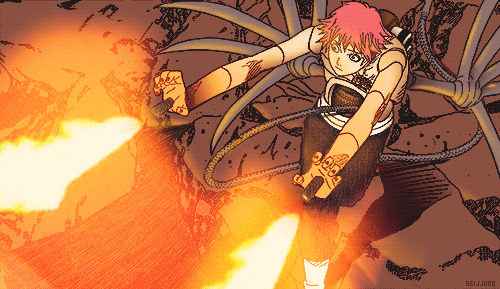 ---
THE PUPPET SYSTEM
---
Welcome to the system for puppets on Ninja Revolution, if you've clicked on this link it means you are curious about the puppet mechanics for the site and that is what this here is for. This system will only apply to the puppets that are used through the Puppet Technique that makes use of chakra threads.
---
STANDARD PUPPETS
---
A
Beginner
in the puppet technique is capable of using a single puppet, this puppet requires the user to make use of all ten fingers and threads to work. At the
adept
level the user will see themselves able to control two puppets, these puppets will require five fingers each to operate properly. An
expert
in the skill will find themselves able to manipulate five puppets which require two fingers each.
A
master
in Kugujutsu will be able to manipulate ten puppets which requires one finger each puppet. When one truly dedicates themselves to the category of Kugujutsu and become a
Grand Master
they are able to use techniques other than the puppet technique to use puppets, as well as more diverse means: such as seals, mind-transfer and simple telekinetic manipulation etc.
Making Puppets:
The creation of a puppet is quite simple. For a regular puppet it is similar to equipment, a puppet has slots to put in weapons and attachments which give it combat power. A puppets rank decides its initial amount of slots but more slots can be bought for 5,00 Ryo. One must also be reasonable, for example if a puppet the size of an ant has four slots, that are big things like kunai launchers and flamethrowers that is obviously not going to be legitimate so be realistic with size to slots.
| | |
| --- | --- |
| E-rank | 0 |
| D-rank | 2 |
| C-rank | 4 |
| B-rank | 6 |
| A-rank | 7 |
| S-rank | 8 |
---
HUMAN PUPPETS
---
Human Puppets are much harder to create than ordinary puppets and to create them a person must have, or be assisted by a person with a Master in Medical Ninjutsu. While anyone can use these puppets there is a fine art to making them in which a master of Kugujutsu is also required to be effective. These puppets are unique in the way that being made of a corpse it can retain all the corpse's jutsu and Kekkei Genkai.
NOTE: The corpse used must be registered as an deceased NPC or PC.Making Human Puppets:
The process of making human puppets is similar to regular puppets except the puppet has the advance slots and the jutsu of the corpse, the puppets rank is determined by the corpse's rank. For example an A-rank Jounin would be an A-rank puppet. Despite this though the puppet does not have its own independent chakra pool and the user will have to sacrifice their own chakra to use the puppet's jutsu.
| | |
| --- | --- |
| E-rank | 0 |
| D-rank | 1 |
| C-rank | 2 |
| B-rank | 3 |
| A-rank | 3 |
| S-rank | 4 |