Maeko Akane
Genin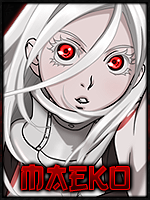 Posts

: 14


Join date

: 2018-01-31

Ninja I.D,
Age: 15
Tier: C-3
Clan: None

Subject: Greetings & Salutations Wed Jan 31, 2018 1:28 am

---

Yo yo, I'm just popping my head in on here just in case some of you haven't met me in the Discord.

On here I'll be going by Tenjin, but I've also gone by Suijin, Roxas, Pendo and Zero.

I've been role-playing on and off for roughly 12 years, although not so much in recent years. I've decided to join this site in particular because it's not too small and not too large, fairly active and I like the look of the systems/rules.

My real name is Joshua, I'm 22, and into digital design (GFX), web design/development, writing, playing guitar and quite a number of other things. If you'd like to know anything else, I'm willing to answer any and all questions.

I look forward to getting to know everyone and have fun role-playing with you guys/gals.
Kosuke
Ghost





Posts

: 1095


Join date

: 2017-05-01


Age

: 21

Ninja I.D,
Age: 50
Tier: SS
Clan: Uchiha

Subject: Re: Greetings & Salutations Wed Jan 31, 2018 7:42 am

---

Welcome to the site! I am Kosuke, the Head Administrator here. Around the site, I am also Bet, Kirito and Eio. It is an absolute pleasure to meet ya and I cannot wait to RP with you! If you have any questions or concerns, feel free to contact myself or any of our staff members for help! 

Kosuke~